Metal Injection Molding with 3DM™ Technology
Not every part is a perfect fit for metal injection molding. Here's a few features that mean your component could benefit from 3DM™:
3DM™ Technology
MIM is known for producing complex geometries, but parts were limited to 20 grams. What if you could leverage only the best parts of the process? Now you can.
The Metal Injection Molding process has a successful track record of manufacturing strong, complex metal parts for demanding applications in a high volume. With the combination of a state-of-the-art automated molding cell, extensive high temperature sintering capacity and advanced feedstock options, customers can produce strong, highly complex 3D components in Metal Injection Molding with total design freedom.
Our approach to metal injection molding capitalizes on the technology's best attributes while introducing non-traditional solutions the process's biggest shortcomings. Metal injection molding requires a manufacturing partner with the equipment, expertise and drive to reinvent the status quo.
Accompanying DSB's existing sintering capacity on the production floor, the New Technology Center houses a state-of-the-art automated molding cell to drive the most efficient Metal Injection Molding operations for complex, functional components.
Design freedom for 3D parts
MIM is a solution for parts with two or more pieces that can be designed into a single piece. Among other design advantages, injection mold design allows for internal and external threads without post processing.
Parts with high complexity
Large components that can't be made in conventional powder metallurgy because of the design complexity are a fit for metal injection molding. The more complex the geometry, the more an injection mold design can help.
Efficient high volume production
Traditionally, large MIM parts for high volume production have been a fantasy. Our partnership with Tundra enables cost-efficient series production for MIM components greater than 100 grams.
A need for tight tolerances
Components with complex designs and a requirement for very tight tolerances will benefit from 3DM. Meeting the tightest tolerances is one of MIM's shining features.

Optimizing MIM Components Through:
Improved Particle Packing
Up to 87% by volume – allowing for lower sintering temperatures and improved isotropic characteristics
Isotropic Shrinkage
You can expect shrinkage of 8-11%, compared to traditional shrinkage of 16-20%
High Dimensional Stability
Producing near-wrought properties and reduced part variability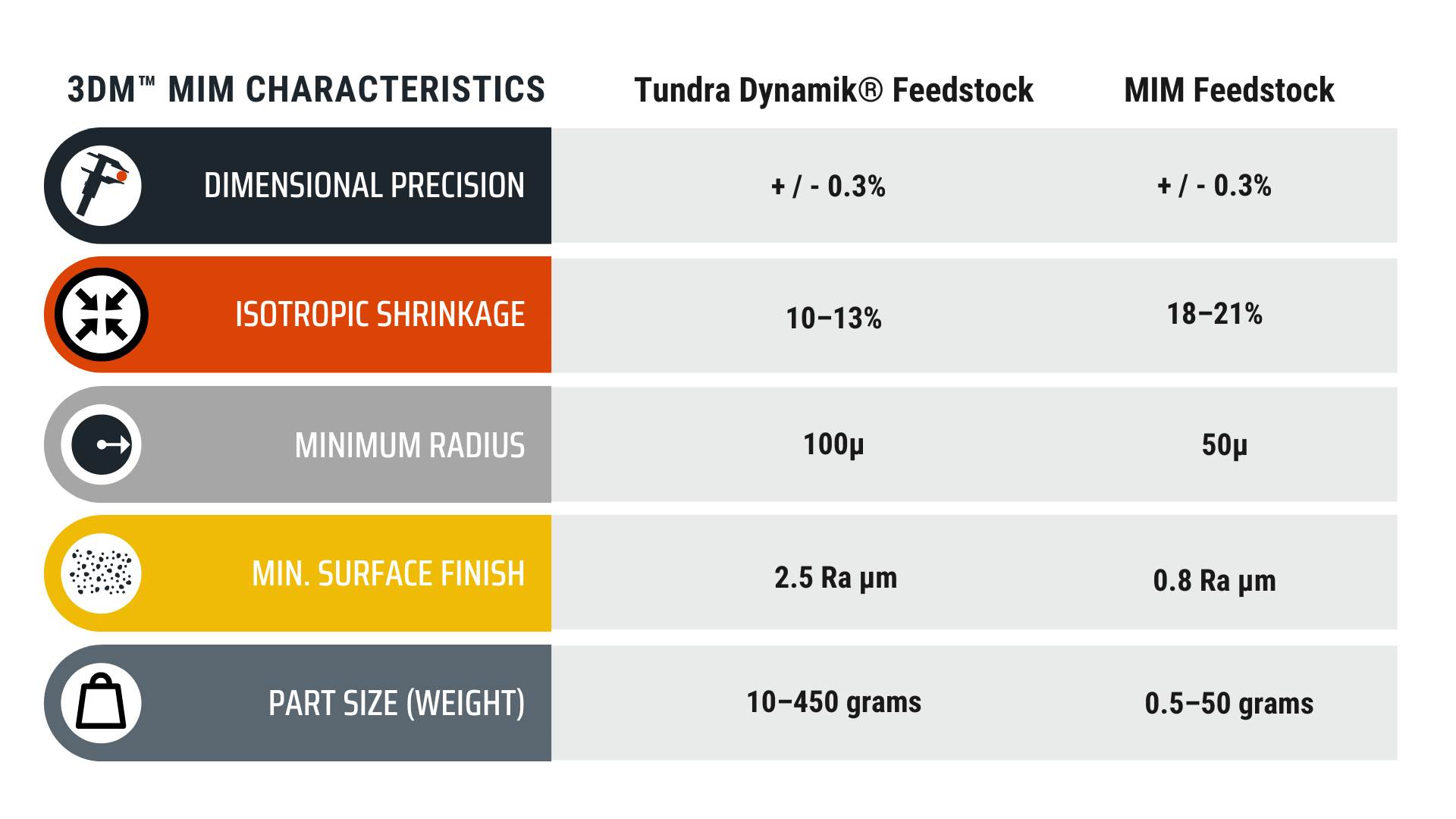 FREE ON-DEMAND WEBINAR
How Advances in MIM Technology Can Help Resolve Market Transitions
Discover the advances powder metal manufacturing and 3DM™ Technology has over conventional metalworking processes, and how it can help you overcome the technical and commercial challenges that effect your bottom line.
What is Metal Injection Molding?
Metal injection molding is a metalworking process/technique using finely-powdered metal to manufacture both simple and complex metal parts. The fine powder is combined with binder material to create what's called a feedstock. This feedstock is what eventually gets shaped into the final product.

MIM produces complicated shapes while delivering a highly repeatable process. They also come out near fully dense which allows tertiary tasks like plating and heat treating to be performed more easily. That is part of what makes metal injection molding less time-consuming and more cost-efficient.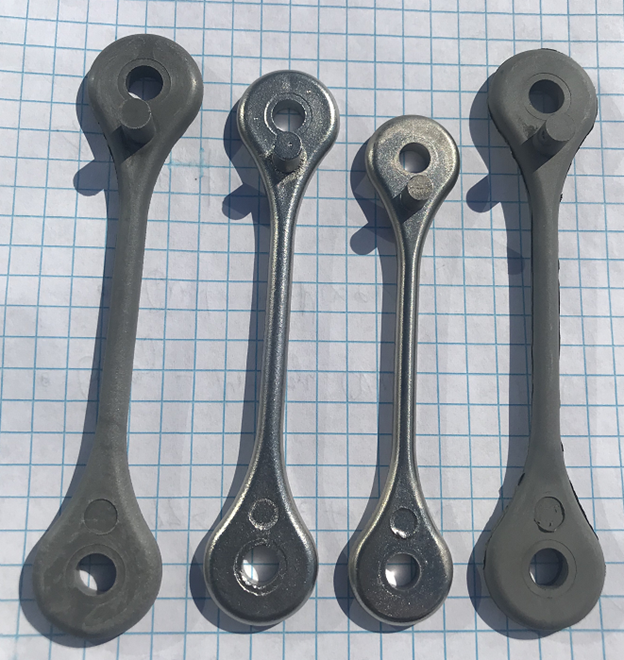 Nontraditional MIM Part Production
Our partnership with Tundra Companies makes high volume production of large, complex metal injection molding components economically possible.
DSB Technologies is your preferred production partner of parts made with Tundra's Dynamik® materials platform, including metal composite feedstocks and powders. With our metallurgical production expertise and Tundra's successful track record in coating materials, you can produce larger and more complex parts previously not possible in MIM.
With traditional MIM materials, the uncertainty of isotropic shrinkage significantly increases with larger parts, often creating high part variability, low dimensional stability and expensive material processing. These obstacles have kept most MIM components around the size of 25 grams or less. Dynamik® offers high particle concentration materials that can be processed on established equipment which enables large, complex part production in MIM – including part sizes greater than 100 grams.
DYNAMIK® VS. CONVENTIONAL MATERIALS:
The Green & Sinter parts on the left were produced with Tundra's Dynamik® material. The Green & Sinter parts on the right were produced with a conventional MIM material.